Meantóir is a specialist support service for early childhood educators and childcare service providers working with babies, young children and their families. With over twenty years' experience in early childhood care and education including management, academic training and development, CPD mentoring, research and policy – we offer an extensive package of supports to assist early childhood services to provide a professional, high quality service for their clients.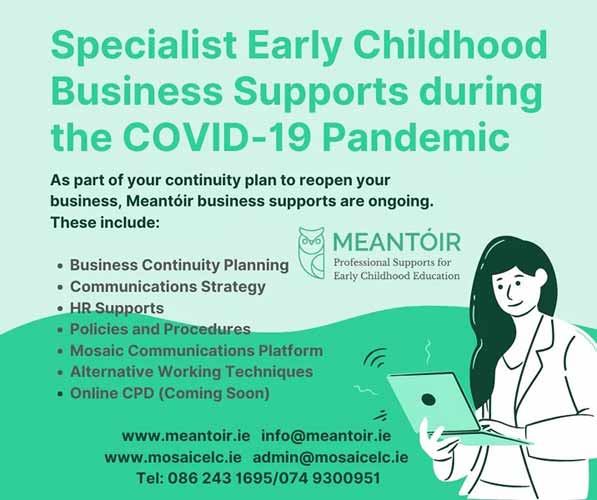 Specialist Business Continuity Supports from Meantóir
Early Childhood Services are facing a difficult and uncertain future due to the Covid-19 Pandemic. When things return to normal, staff will have been displaced, parents may be out of work and priorities will have changed dramatically. The early childhood sector will be at the forefront of the fightback, enabling parents to return to employment to restart the economy.
Meantóir Specialist supports are particularly suitable to the unique needs of early childhood businesses due to the funding model that services are under and their contract obligations to DCYA/Pobal as well as their regulatory obligations to Tusla. Specialist support to enable early childhood businesses to survive the COVID-19 pandemic challenge are vital.
Meantóir can offer tailor made supports on a local, personal and confidential basis. These include:
– HR supports on the reinstatement and reemployment of staff
– Developing a Communications Strategy – including website mapping and client communications
– Drawing up a recovery business strategy to ensure the service is offering a competitive edge for existing and new clients (parents). This may include marketing, training, sustainability plan etc.
– Online and telephone support is also available for the duration of the Mentoring Plan
– Policy and Procedure development to ensure compliance when inspected after opening
– In-house/online Continuing Professional Development opportunities for staff to motivate them on re-entering/joining the educator team.
The Mentoring process is as follows:
1. Following a consultation, a bespoke mentoring plan will be devised and agreed for the early childhood service based on an action response to business needs. A timeframe will be set and actions agreed.
2. An evaluation report will be compiled following the mentoring intervention to highlight supports provided and impacts made.
Costs:
– COVID-19 Mentoring packages are individual to the service and funding can be used for any combination of supports. Funding can be used for half days, full days, online supports or any arrangement that suits the needs of the early childhood service.
– Costs are based on the Business Continuity Voucher Rate of €500 per full day, in time, including VAT where applicable.
– Funding can be used over a short period for intensive supports or planned over a longer period.
Business name: Meantóir: Professional Supports for Early Childhood Education
Lead Consultant: Avril McMonagle
Telephone : 086 243 1695/074 9300951
E-mail : [email protected]
Website: https://www.meantoir.ie/
Facebook: https://www.facebook.com/meantoir1
Twitter: https://twitter.com/Meantoir1
Instagram: https://www.instagram.com/meantoir1/