Observation, Assessment and Transition in early childhood care and education
Meantóir is launching a new professional educational tool for early childhood services nationally in Summer 2019. Demonstrations will be planned in different areas to enable Early Childhood Services and Parents to find out about the online platform, how it works and book a package for September 2019 intake. Specific Training on using the App or on the development of Learning Stories will be provided as an option. To find out more, or if you are interested in having a presentation in your county, please contact me or call 086 243 1695.
What is Mosaic?
Mosaic: A Portrait of Early Learning, is a mobile online platform designed for early childhood services using Aistear the Early Childhood Curriculum Framework.
Mosaic is a quality practice system that supports Educators to meet their professional responsibilities around the documentation of children's early learning and care. It is designed to maximise partnership with parents through timely two-way communications and information sharing.
The mobile platform will allow Educators to compile and share with parents, a progressive record of children's learning and development using the Learning Story Approach.
Framed around Aistear themes and goals, the uniquely designed functions of Mosaic will allow the Educator to compile a Leabhar Scéalta (Storybook) for each child.
Each Leabhar Scéalta will contain a variety of Learning Stories, photographs, short videos, samples of children's work and recorded learning achievements.
Over time, this builds an informative picture unique to each child which is shared with parents in real time.
Educators can also maintain a Daily Care Log for the care of children 0-3 years and send individual and group communications to parents.
Benefits of using Mosaic
For Children, Parents, Educators, the Early Childhood Service and the Environment
Documentation and assessment are core components of quality early childhood practice that requires Educators to 'tune-in' to children to support and enhance their learning, development and care. In addition, parents need to be informed about their child requiring effective communication systems. Increasing administration pressures on early childhood services and staff require functioning and resource efficient systems to suit the requirements of all parties. The comprehensive framework for Observation, Assessment, Planning and Transition incorporated into Mosaic, provides all the tools Educators need to build a unique and meaningful portrait of children's early learning and care within the early childhood setting.
The use of the Mosaic application will benefit Children, Parents, Educators and the Early Childhood Service through:
• Distinctive profiles of children where you can really 'see' the uniqueness of each child, their personality, interests and strengths. This profile builds over time using pictures, videos, observations and assessments using the Aistear curriculum framework.
• New learning opportunities for children through their exposure to, and connecting with technology. This will be realised by actively involving children in taking photographs and recording videos with Mosaic and helping children build their own story of learning. In addition, a variety of interconnecting learning experiences can be supported by spending quality time with an Educator/parent/grandparent, sharing, reviewing and discussing the child's Leabhar Scéalta. This will strongly reinforce the child's positive self-image as a learner by celebrating achievements, build close and trusting relationships with adults, develop communication skills, reflect on and self-assess learning experiences and make connections between previous and new learning.
• Children being able to take work home in 'real time' rather than retaining it in the early childhood setting for a scrapbook, allowing for acknowledgement and reinforcement by parents.
• Effective Partnership with Parents through an efficient communication system to share care and learning updates about their child, forthcoming events or urgent notifications.
• Parents updates in 'real time' through notifications to their mobile device. This is invaluable for both the parent and child to discuss the child's day in the evening and enables parents to be more actively involved in the child's daily experiences.
• Time efficiency for Educators will be realised through the pre-populated curriculum framework and most learning stories can be done in real time or saved and completed later.
• Practical tools for the Educator to ensure the child is experiencing broad based learning experiences by flagging learning goals that a child has not yet achieved. Goals achieved will be collated for each child as part of their unique profile enabling the Educator to plan and offer specific activities if necessary, to stimulate the child to engage with a broader range of learning experiences.
• 'Whole Service' consistency of the documentation and assessment process will be realised by using Mosaic. This will provide consistency of approach for all children, parents and staff.
• Cost efficiency for early childhood services will be realised by the Educator documentation process becoming more time and resource efficient. Educators will spend less time compiling Learning Stories due to the unique specification and tailor-made functionality of Mosaic. The significant reduction in the use of paper, card and paper profiles will not only reduce costs but also offer a more environmentally friendly option for early childhood services.
• Increased professional image for services by delivering a consistent whole service documentation and assessment system that is communicated efficiently to parents and is readily available to regulatory bodies.
• An environmentally friendly method of administration. Individual daily care logs will no longer have to be printed on a daily basis and the production of paper observations is significantly reduced or discontinued.
What will I find in the Mosaic App?
• A Child Profile – contains information from home when a child starts the early childhood service
• A Daily Care Log Template for babies 0-3 years old to record sleep, food, nappies and mood
• 8 different Learning Story Templates -Transition Templates, Observation Templates, Assessment Templates, Group Achievement Template.
• A Photo/Video Gallery to store photos of the child and images of creative work.
• Achievements, Goals and Targets chart (overview of learning goals achieved for input into planning template)
• Past Storybooks are available to new Educators when a child moves to a different room/level within the early childhood service
• An Educators' Guide
• A Communications Section to enable communications between the early childhood service and parents
• A Good Practice Section containing downloadable tools and templates for Educators and information for parents
• Compliance Section containing sample policies, data protection statements and parental consent forms.
What makes Mosaic unique?
Mosaic is unique as it has been developed specifically for the Irish early childhood sector working with children 0-6 years old. This includes Childminders, Pre-Schools, Crèches and Infant classes in Primary School. Mosaic has been specifically designed to connect with Aistear, Ireland's thematic based curriculum framework. The Mosaic framework also encompasses the fundamental principles running through all Irish regulatory, curriculum and quality frameworks and guidelines.
The terms Mosaic and Portrait are linked to building a progressive picture of children's learning, development and care through observation and assessment. By collecting information using a variety of methods and listening to different perspectives and voices, they interconnect to make one complete and meaningful picture of the child.
A range of Learning Goals and Dispositions are used to structure meaningful learning opportunities and experiences for young children. The concept of emergent, inquiry based curriculum is promoted in supporting the child's learning and development and the child is valued as a unique individual and an active learner. Transition information is also compatible with Mo Scéal (NCCA, 2018) enabling a meaningful transfer of information from pre-school to primary school.
Mosaic is an uncomplicated system aimed at promoting optimal use by the Educator and focusing solely on the service responsibilities around the child's early learning and care and communicating this effectively to parents. A variety of Learning Story templates are included in the app and can be used to frame assessment for learning and to feed into emergent planning for children's interests.
The Learning Story Approach is an assessment 'for' learning approach that is used to 'tune in' to the individual child and use the information gathered to build on and reinforce further learning dispositions, skills and knowledge. The Learning Story format is suitable to use with babies, toddlers and young children from the perspective of each child's individual ability, background and stage in learning.
Mosaic Service Packages
Mosaic packages are available in a variety of different sizes- depending on the number of children attending the early childhood service.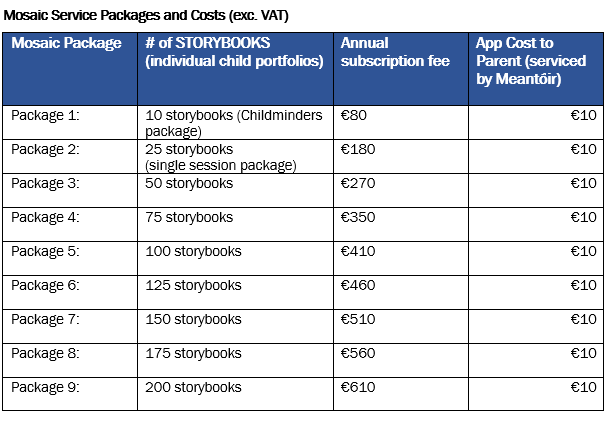 Early Childhood Services will be charged an annual subscription fee relating to the size of the package required. This price structuring will be particularly beneficial to smaller services that only require a small number of storybooks. Additional Storybooks can be added during the year if necessary without having to purchase an additional full package.
The cost to parents will be minimal to enable all parents to access the Mosaic application. This payment will be managed directly by Mosaic for a minimal cost.
If you are interested in the Mosaic Learning Story App, please send us and expression of interest below and we will get back to you regarding demonstration events in your area
[forminator_form id="8079″]