Over the past few weeks, Meantóir has been inundated with requests for Policies and Procedures as specified in the Tusla checklist for School Age Childcare Registration. It is a requirement for those registering as a School Age Childcare Service, that these policies and Procedures are age appropriate to older children. The pre-school versions of these particular policies will not be accepted by Tusla.
We have responded by putting together a package which contains the 6 full policy and procedure documents on the checklist including a child friendly version of the complaints policy and complaints form. We have also included 8 accompanying template forms easy photocopying as appropriate. Also attached is the WORD templates for the 2 statement documents you need to complete as part of your registration process. Also included is the link for completing a full safety and risk statement for standalone SAC services.
Once you place your order we will email your documents in PDF (Policies) and WORD (Templates) within 2 weeks from the date of your order.
School Age Childcare Policies and Statements
WITH REGARD TO: CHILD CARE ACT 1991 (EARLY YEARS SERVICES) (REGISTRATION OF SCHOOL AGE
SERVICES) REGULATIONS 2018
With regard to the registration of a School Age Childcare Service, Tusla have specified the following list of policies and statements as part of your checklist of documents that need to be School Age Childcare specific.
The Meantóir SAC Policy Package contains:
– 7 policy and procedure documents (inc. a child friendly Complaints Policy and form)
– 8 template forms for photocopying
– 2 Templates for completion by you.
– Link to complete a free Safety Statement (for standalone services)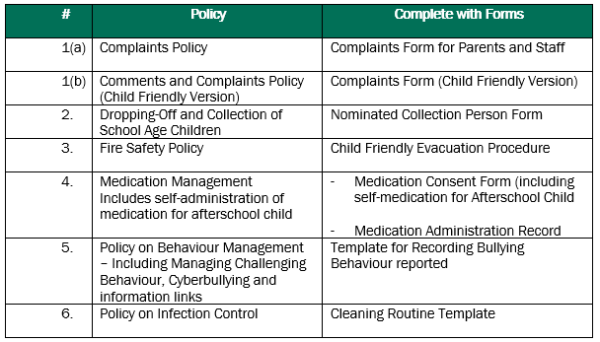 2 Templates for you to complete:
1. Statement of Purpose and Function for School Age Childcare. You will need to complete this WORD template to outline the specifics of your Afterschool Service.
2. Child Safeguarding Statement – complete this for your service following the checklist provided as guided by your Children First Child Protection Training.
Safety Statement Link– you can complete a Safety Statement online free of charge on www.besmart.ie if you are a standalone SAC service. Just follow the easy to access steps and you can produce a safety statement specific to your service.