March 21, 2023 7:00 pm - 9:00 pm
https://us02web.zoom.us/j/83448062118?pwd=QnI0SVZEYzhJa29rMUlzdXhVTGl2QT09 Meeting ID: 834 4806 2118 Passcode: 829299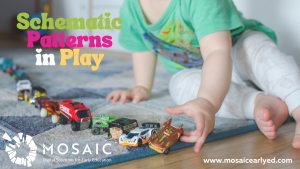 Schematic Patterns in Play
Do you work with children under 3 in a Childminding or Creche setting? Do you struggle to find things to put into a learning story or emergent planning? Then this programme is for you!
Schematic play happens when babies, toddlers and young children are involved in repeated actions or certain behaviours as they explore the world around them and try to find out how things work. We call these specific actions or behaviours 'Schemas'
What is included? The 'Schematic Patterns in Play' CPD programme identifies and explains the 9 main play schemas. Sample activities to build into child-led planning are included for each schema alongside descriptive words to build corresponding language acquisition for babies and toddlers. You will also see examples of how to write a learning story with a schema focus and many images of play schemas in action. Practical handouts are included.
When? Tuesday 21st March 2023 7pm-9pm.
Who for? Non-MOSAIC Users and members of TribeMOSAIC
Delivered by – Avril McMonagle
How much? Members of TribeMOSAIC – €20 staff member with 5 places for €80 (discount code will be emailed to you)
Non-Mosaic users – €25 per staff member with 5 places for €100.
A Certificate of Participation is supplied for each registered participant to contribute to your Quality Plan and Staff Training Record for 2023. Non- registered participants will not be admitted to the session.