NOW OPEN FOR BOOKINGS!
We are delighted to bring you our CPD offerings for the Autumn '22 Term. We have scheduled a range of events based on topics that are in frequent demand and we hope that there is something for everyone! We are hosting a combination of both in-person and online CPD events which can now be viewed on the MOSAIC website https://mosaicearlyed.com/events/
Autumn 2022 Live Events
Firstly. if you are a MOSAIC subscriber, as part of the MOSAIC Community of Practice, we provide 2 FREE CPD events per year to support your Quality Plan.
This year we are starting off with a CPD session on 'Emergent Planning on the MOSAIC App'. As Emergent planning is now a feature on MOSAIC Educator app, TribeMosaic are looking forward to saving lots of time this year with this innovative new system.
A particular highlight on our Autumn calendar is our new programme 'Meaningful Practice with the Under 3's' which is jam packed with the most fundamental pedagogical tools and strategies for educators working with babies and toddlers. This programme is very timely with the introduction of the DES inspection process for the under 3's. This full day programme includes interactions and relationships, the key person system, schematic patterns in play, including child voice in documentation, and daily care and sleep documentation to meet regulations.  Not to be missed for services working with the under 3's.
Our documentation programme 'Connecting Learning Stories to Emergent Planning' is specifically designed in response to a common issue relating to disjointed documentation and an inconsistent approach across the whole setting. For those who have undertaken this programme in the past, it has completely streamlined documentation and demystified emergent planning! This programme will give participants practical strategies to ensure both areas are connected and progressive.
You also have the option of participating in either Emergent Planning or Learning Stories separately if preferred.
For more information on each programme and to book places, go to https://mosaicearlyed.com/events/
Don't forget about the MOSAIC Online CPD PLATFORM as well!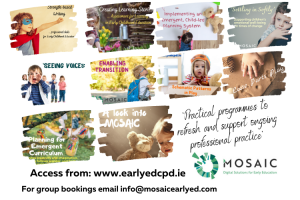 In addition to the live CPD Menu now available to book on our website, the MOSAIC online CPD platform currently has 10 training programmes live on the platform – each one designed so that educators can make realistic and sustainable changes to early childhood practice. Each programme includes practical examples, tips for implementation, templates and additional reference documents. A personalised certificate of participation is also included.
Just go to www.earlyedcpd.ie register your name and email and download a programme of your choice. You can complete the programme at a time that suits you!