The latest learning story now embedded in MOSAIC Educator, is undoubtedly the most innovative and important function we have brought to our multi-dimensional documentation system to date. This is because the MOSAIC 'My View' story gives educators meaningful tools to notice, reflect and respond to children's voice in their everyday practice.
The development and design of 'My View' is a practical response to The Participation Framework: National Framework for Children and Young People's Participation in Decision-making (DCEIY 2021). The Participation Framework which includes the participation of very young children, is Irelands policy commitment to the UN Convention on the Rights of the Child [UNCRC] (United Nations, 1989) which addresses children's right to be heard.
Central to the Participation Framework, Lundy (2007), puts forward a model of participation that highlights the components necessary for meaningful participation – 'Space, Voice, Audience and Influence'.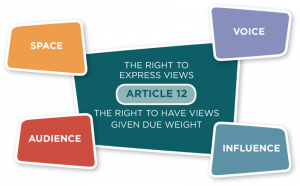 Whilst the MOSAIC multi-modal documentation system enables the participation of children in a variety of ways, the introduction of 'My View' leaves no room for misinterpretation in terms of the inclusion of child voice.
The unique and innovative design of 'My View' puts a spotlight on completely child-led pedagogical engagement. It not only provides a 'space' to capture authentic 'voice,' it shares the child's agency to an 'audience' which is then acted upon through 'influence'.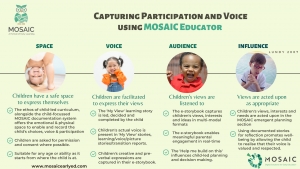 Unwrapping Participation in the context of early education
Participation is a fundamental component of children's rights. This is evident in a space where children and adults see and treat each other as competent partners, where all voices, opinions and participation are valued equally. Another way of viewing 'participation' is simply 'partnership' or 'being involved'.
'Children are the key informants and experts in their own lives, and, indeed are our best source of advice for matters affecting them' (Mac Naughton, Smith and Lawrence, 2003).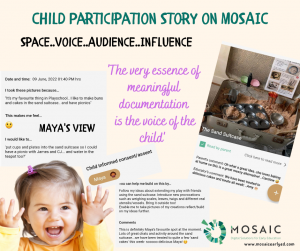 The 'My View' story is led by the child and engagement is most ideally facilitated by the child's Key Person.
The documentation tool of 'Photovoice' is employed to provide a focus for the story. The educator encourages the child to use a mobile device to take pictures of people/things/places that are important or of particular interest to them.   Meaningful engagement with technology is another positive attribute of the 'My View' story.
Through sensitive interaction, the educator can tease out why the child choose to take the pictures and may provide an insight into why this is meaningful to the child. The educator enters the child's response (or none!).
By viewing and discussing a range of feelings emojis, the child is asked to identify how this makes them feel. The child has free choice to select an emoji/emojis and is invited to talk about their identified feelings.
Thinking and decision making is employed when the child is asked what they would like to do next. What would the child like to introduce to their play to support this interest? This information, alongside the educator's ideas are then used to inform activities on the emergent curriculum plan.
The child's right to give consent is employed prior to posting the story. The educator explains in an age-appropriate way who will see the story. Consent can be given or denied by the child and if given, this is represented by a choice of child character emojis or typing in letters of their name (as age appropriate).
Finally, the partnership approach is fully realised when the parent makes a comment on the completed story from via their MOSAIC Family app at home.
'My View' as a meaningful conduit to engage with Aistear
A wide range of Aistear principles, learning goals and dispositions can be promoted using 'My View'. These include:
Rights, Democracy and Citizenship
Identity
Confidence and self-reliance
Making decisions and choices
Fine motor control
Positivity in own abilities
Interests
Express ideas and preferences
Capable and involved
Using IT in an enjoyable and meaningful way
Independence
Verbal/non-verbal communication
Feelings, thoughts ideas
Relationships and interactions
Self-esteem
Connectedness and belonging
Mastery and control.
'Observing and listening to children carefully is where early childhood education begins. The most important verbs in early education are not 'to talk' 'to teach' or 'to show' – but 'to listen'. This practice is not confined to children who have spoken language. Children of all ages and abilities show us many signs – we need to know what to look for in order to translate the language of the child'.
-Ends-
About the Author:
Avril McMonagle is Founder and CEO of MOSAIC Digital Solutions for Early Education which provides a range of child centred digital products, training and quality compliance supports for early childhood services and stakeholders.  The company flagship products are the MOSAIC Educator and MOSAIC Family Apps which offer multi-modal documentation and assessment tools for professional educators. For more or to book a demo see www.mosaicearlyed.com; email [email protected] and follow us on social media @mosaicearlyed