It is never easy putting your product forward for independent scrutiny, but that's exactly what we decided to do with MOSAIC recently. This is part of our own reflective practice.  We are delighted to share that this week we were awarded a 5-star rating for the MOSAIC Educator and MOSAIC Family Apps from the Educational App Store.
They said:
'Mosaic Educator is a one-stop-shop for all educational data needed for a progressing child on a daily basis. The user will find the application a pleasure to use' Educational App Store, May 2022.
MOSAIC Educator and MOSAIC Family Apps www.mosaicearlyed.com underwent an independent review by a panel of teachers and technology experts. The mission of the Educationalappstore.com is to help teachers and parents around the globe, to progress younger child's education through the use of educational apps. Below is a summary of what they loved most about MOSAIC!
MOSAIC Educator and MOSAIC Family
'MOSAIC Educator' and 'MOSAIC Family' work together as a professional Edtech documentation system specifically designed for early childhood education. The secure, child centred system records children's early learning and care and is designed to dovetail with quality and regulatory compliance standards. The system also facilitates real time communication and engagement with parents and family.
MOSAIC was designed to be a user-friendly, professional system which incorporates the voice of the educator, the child, and the parent. We were particularly delighted that the Educational App Store picked up on our user-friendly design and ease of access for all user capabilities:
'The application has a clean and uncluttered layout. The application is simple and easy to navigate. The application opens promptly with a delightful splash screen, notifications prompt and a log in option.
 Mosaic Educator is a versatile application with menu systems and features that are very easy to navigate. The application has a clean look to the interface and the graphics are excellent, at no point does the screen look cluttered' Educational App Store, May 2022.
The review team loved our 'high-quality content' – this includes all multi-modal documentation options, communication system and supporting information:
 'The interface has lots of high-quality content and menus that are easy to negotiate. The fonts, graphics and scrolling screens make the application a pleasure to use' Educational App Store, May 2022.
They also pointed out the strengths around our design involving our Manager's Dashboard as the computer-based partner to the app which is used in the classroom:
 'The mobile application is a perfect companion to the Educator's computer-based dashboard and is ideal for those who would use the app on a mobile or tablet device, syncing between the two platforms' Educational App Store, May 2022.
This inclusion of multiple perspectives and voices in the child's learning and development is one of the things that makes MOSAIC a pedagogy tool with a difference. The MOSAIC design provides a professional solution to the core components of quality early education and regulation compliance using a green, sustainable documentation system. Again, we are delighted that this was not missed on the review team..
'The application Mosaic Educator is a wonderful app that provides an efficient way to record, compile and share the daily progress of a child's learning and development under the themes of the Aistear curriculum framework'.
With so many children in an early childhood setting, this application is a wonderful way of keeping track of each child's individual needs and learning. We particularly like the Daily Care log' Educational App Store, May 2022.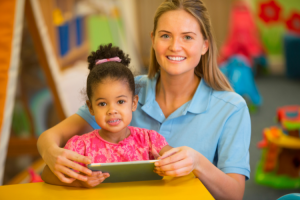 It was also great to see that the team appreciated the value of real time communication and partnership with parents:
'The dashboard is easy for parents to understand and provides high-quality feedback'.
'The parent can receive notifications from the app's user enabling them to review their child's progress throughout the day.
'We particularly like the fact that parents are notified of the Daily Care Log information prior to the child's collection thus saving valuable time at pick up' Educational App Store, May 2022.
The transition section on MOSAIC also received high praise:
'The Transition information is priceless and a great feature within the application that will really support the child moving forward' Educational App Store, May 2022.
And most importantly, as we have put so much effort into designing MOSAIC to safeguard children's privacy and communicate information to parents and nominated family members, it was amazing to read:
'This application delivers on many levels and is safe to use' Educational App Store, May 2022.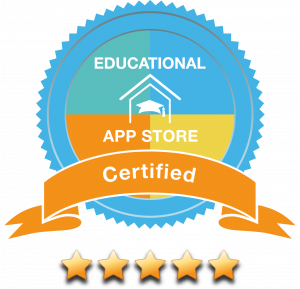 Overall Rating of the application
'Mosaic Educator is an excellent application which provides a practical tracking solution for childcare providers, Parents and External Compliance organisations. The Mosaic Educator application comes highly recommended by The Educational Appstore and receives the full 5 stars' Educational App Store, May 2022.
The full review can be accessed on https://www.educationalappstore.com/
In partnership with Square Root Solutions https://squareroot.ie/ and ImperoIT https://imperoit.com/ a new phase of additional functions will be operational soon.  Imagine what they will say the next time we submit MOSAIC for review!
If you would like to bring the amazing MOSAIC Educator to your early childhood service, see our website to book a demo session www.mosaicearlyed.com or see what scheduled events are coming up here Events – MOSAIC (mosaicearlyed.com)
About MOSAIC Digital Solutions for Early Education
MOSAIC Digital Solutions for Early Education provide a range of child centred digital products, training and quality compliance supports for early childhood services and stakeholders.  The company flagship products are the MOSAIC Educator and MOSAIC Family Apps which offer multi-modal documentation and assessment tools for professional educators. For more see www.mosaicearlyed.com; email [email protected] and follow us on social media @mosaicearlyed
-Ends-
About the Author:
Avril McMonagle is Founder and CEO of MOSAIC Digital Solutions for Early Education which provides a range of child centred digital products, training and quality compliance supports for early childhood services and stakeholders.  The company flagship products are the MOSAIC Educator and MOSAIC Family Apps which offer multi-modal documentation and assessment tools for professional educators. For more or to book a demo see www.mosaicearlyed.com; email [email protected] and follow us on social media @mosaicearlyed