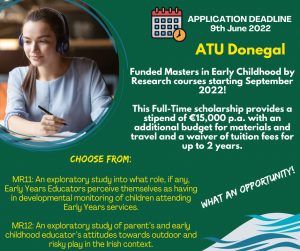 We are delighted to promote forthcoming opportunities to undertake a funded Masters at ATU Donegal in the field of early childhood education.
This Full-Time scholarship provides a stipend of €15,000 p.a. with an additional budget for materials and travel and a waiver of tuition fees for up to 2 years.
Application deadline is the 9th of June 2022.
Apply here for the course references below: https://www.lyit.ie/Research-Innovation/Postgraduate-Research-Opportunities?fbclid=IwAR0BBRbkQ7pzwpxuHd-0kkLdfDSc2lI7LIXd6_4YK1Ytpiu_k3cPTVoOyAc
MR11: An exploratory study into what role, if any, Early Years Educators perceive themselves as having in developmental monitoring of children attending Early Years services.
MR12: An exploratory study of parents and early childhood educator's attitudes towards outdoor and risky play in the Irish context.
-Ends-
About the Author:
Avril McMonagle is Founder and CEO of MOSAIC Digital Solutions for Early Education which provides a range of child centred digital products, training and quality compliance supports for early childhood services and stakeholders.  The company flagship products are the MOSAIC Educator and MOSAIC Family Apps which offer multi-modal documentation and assessment tools for professional educators. For more or to book a demo see www.mosaicearlyed.com; email [email protected] and follow us on social media @mosaicearlyed